DAMIAN CATERA
Live On WFMU 91.1 FM
July 18, 2001 @ 2 AM EDT
On Dan Bodah's AIRBORN EVENT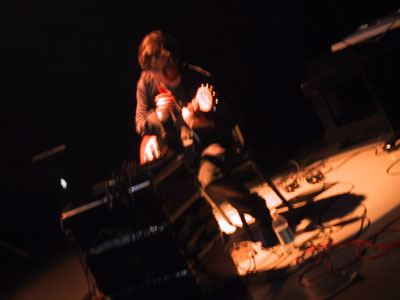 photo by S. Lombardi
Damian Catera will perform 2 new improvised pieces for guitar and computer system on Dan Bodah's AIRBORN EVENT which runs on WFMU from 2-6 AM on Wednesdays. These two pieces will showcase Catera's MAX based machine improvisation system which samples, processes and plays back his guitar as a live accompaniment.

Judging by the play lists, Dan's show is interestingly eclectic consisting of everything from electronic soundscapes to esoteric rock, free jazz and even the occasional Sinatra classic. Should be an interesting broadcast.

This broadcast will be streamed live on the internet, and will be archived for later listening.

For More Info go to the WFMU website.